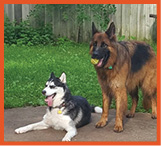 Hours & Rates (507)358-8041
We offer:
Twice a day Feeding (am/pm)
4 Large outdoor play areas
Outdoor & Indoor Play/Exercise time
Individual &/or Group play time
Individual attention as needed
Climate Controlled facility
Kennel Mood Lighting
Kennel Mood Music
Administration of medicine
Daily Doggie DayCare
Overnight and extended stays
Large Kennels
Extra LARGE Kennels for Multiple Family Dogs
Lots of T.L.C. given to ALL
Hours:
Monday - Friday
7:00 am - 7:00 pm
Saturday & Sunday
8:00 am - 5:00 pm
IRIE RATES:
OVERNIGHT BOARDING
1 DOG @ $25.00
2 DOGS @ $40.00 (one kennel)
3 DOGS @ $55.00 (one kennel)
Overnight boarding checkout is Noon.
Doggie Daycare charge will be added for pick up after noon.
DOGGIE DAYCARE
1 DOG ~ $15.00
2 DOGS ~ $25.00
WE are looking forward to YOU joining our IRIE FAMILY!
OUR LOCATION:
3743 75th St. S.E. Rochester, MN 55904
We are located just East of Rochester Airport, near the Maple Valley Golf Course. Only 15 min. from downtown.