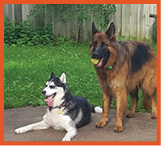 Facts & Rates
PET SERVICES INCLUDE:
Feeding (am/pm)
Structured Indoor Playtime
Scheduled Outdoor Excercise Times
Individual attention as needed
Daily (Mandatory) Massages
Climate Controlled facility
Kennel Mood Lighting
Kennel Mood Music
Administration of medicine
Limited Grooming available
Transportation to vet or groomer
Pick-Up / Drop-Off service available
Daily Doggie DayCare
Overnight and extended stays
LARGE Kennels for Multiple Family Dogs
American Red Cross Pet CPR Certified
Lots of T.L.C. given to ALL
IRIE: JAMAICAN 'SLANG' MEANING
"LIFE IS GOOD"!
WE try to stand behind our name with our relaxed atmosphere, positive attitudes and good clean COUNTRY air to breathe! Come visit and hang out under the Peaceful Pines Chill your (paws) in the Stream * Take a nap in the shade!
OUR LOCATION:
3743 75th St. S.E. Rochester, MN 55904
We are located just East of Rochester Airport, near the Maple Valley Golf Course. Only 15 min. from downtown.
IRIE DAILY RATES:
Doggie Day Care @ $ 15.00 ( 8-10 hrs.)
Add'l. hours – Rates are based upon individual needs.
OVERNIGHT BOARDING PRICE LIST
1 DOG @ $25.00
2 DOGS @ $40.00
3 DOGS @ $55.00
ALL above rates are based upon 24 hr. Occupancy in a SINGLE KENNEL
… ( 4 or more ) – We'll talk about that one!
…Ask about our Frequent PAWS Program!
From our EXTENDED play-times both in and outside, our CLIMATE CONTROLLED kennels to relax in…
To our EXTENDED drop off and pick up hours available, as needed…
WE are looking forward to YOU joining our IRIE FAMILY!
Sincerely,
SUSAN & TRIBE